As Malaysia is bracing second wave of Covid-19 with record high daily cases in the past few days, implementing a paperless vital sign monitoring solution would help Covid-19 designated sites like Sungai Buluh hospital to reduce the frontliners' workload and risk of infection.

The benefits of a paperless vital sign monitoring:

– Reduce Workload. Nurses do not need to write down patient's vitals on a piece of paper then reenter into the HIS. For hospitals with EMR, the vital sign data can be transferred directly via an HL7 or FHIR interface. For emergency Covid-19 centres, e.g. Sport Stadium in Sandakan, this solution provides a centralized vital sign monitoring of all the patients at the nursing counter.

– Minimize Infection. For Covid-19 positive patients, the hospital may consider the option of getting patients to take their own vitals. All vitals taken will be uploaded automatically to the nurse station for monitoring. This can greatly reduce the need for the care team to be in close contact with the patients to take their vitals thus reducing potential risk of infection.
Take and Auto Upload Vital Signs Via WIFI or Gateway
Smart VSM enables transfer of vital signs from a patient monitor at bedside either via WIFI or a gateway to the nursing station. The nurse scans patient wristband's barcode to capture patine ID, take vitals as required and upload the data to the server for viewing on a dashboard. It frees the nursing team from recording down patient's vital signs on paper or entering into a Computer On Wheel (COW). This improves efficiency, reduces potential vital signs recording errors and allow nurses to spend more quality time with patients.
Smart VSM Dashboard
Smart VSM uses colour coding in the dashboard to indicate if patient's vitals are within the preset reference ranges. Whenever a patient's vital is updated, a short notification will appear on the dashboard with time stamp for easy reference.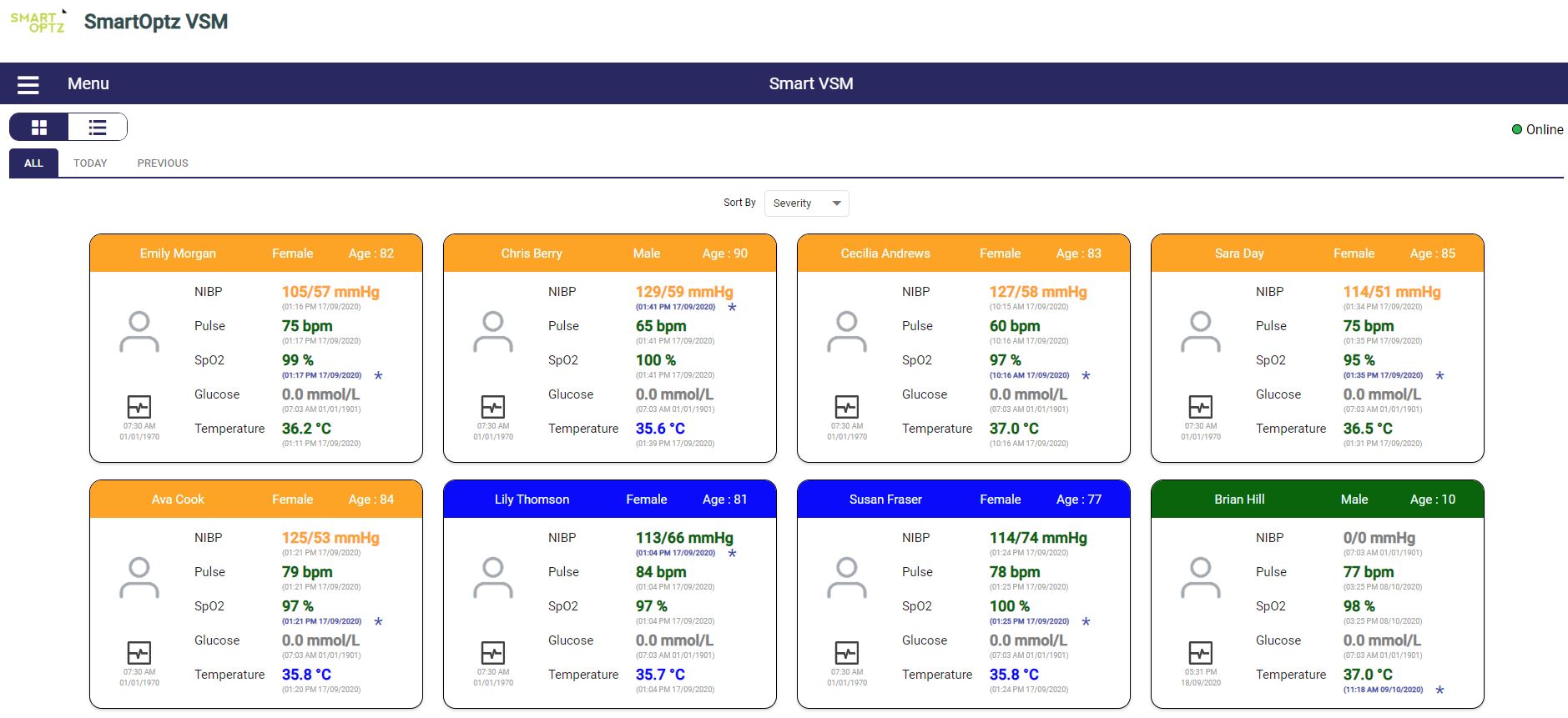 Smart VSM Supports VTrust Vital Sign Monitor
Ideal for hospital wards, ambulance services, assisted living and wellness centers, the VTrust Vital Sign Monitor, model TD-2300 takes the following vital signs:
ECG
SpO2
Blood Pressure
Pulse
Ear Temperature
Blood Glucose
VTrust monitor can be interfaced to Smart VSM to significantly improve the departmental or centre's workflow and patient experience.